Come on down to the Northcote Social Club to witness the (not so) straight out punk and rockabilly antics of Ikochi all the way from Tokyo. This three piece outfit-with the gender defying stage singer/guitarist Chikako and death defying bass player Minato Kota-are ready to shake things up. With support from Melbourne's The Minority delivering their unashamedly daring, queer electro rock! More tunes from DJ Linx and DJ Aztek with the fabulous Roxy Bullwinkle playing host!

Upstart Alley is a not for profit crew putting on a range of events that welcome all you misfits who punch and leak outta the boxes and beyond. At Upstart Alley freaks and queers lurk in the dark corners doing dirty beautiful things and all the gender fuckers are dancing on the pavement, making their own meanings and building their own communities.




We keep our event prices as low as we can go and are committed to holding events at wheelchair accessible venues with wheelchair accessible and gender neutral toilets.

We're always looking for new folk who wanna be part of future Upstart Alley shows! For more info or if you are keen to perform/play/read/show off at a future event send us an email at upstartalley@yahoo.com.au

More info at: www.myspace.com/upstartalley

Tickets are available online at www.northcotesocialclub.com, via Northcote Social Club box office on 9486 1677, or in person at 301 High St Northcote.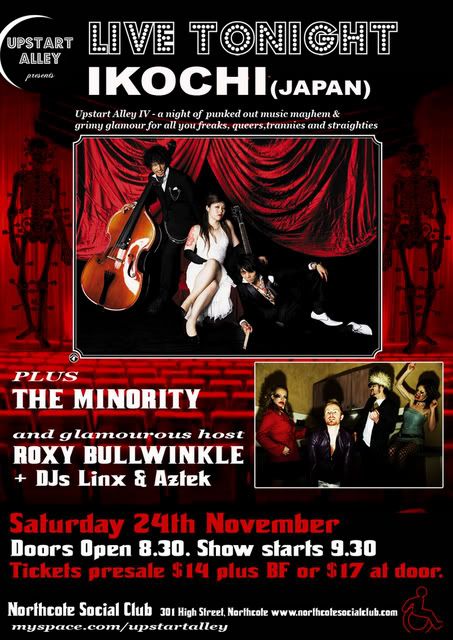 </a>